The ONLY mobile haunted tour in Austin.Public Haunted Van Tours
The ONLY mobile haunted tour in Austin.Public Haunted Van Tours
Our public tours can accommodates parties up to 10 and historic Austin locations that are reportedly haunted or have experienced paranormal activity. The Haunted Van offers comfortable seating, lots of AIR CONDITIONING, and comes with a custom art wrap that's great for spooky pics. Guests will get out of the van frequently and go inside the establishments. Walking in minimal, but there are a couple stairs cases.
Please read the Tour Details below. Use the "Find Available Tour Dates" button to search for availability for your chosen date, time, and party size to buy tickets. Click here to learn about our private VIP hearse limo tours.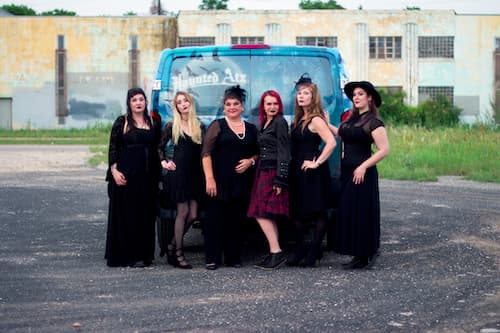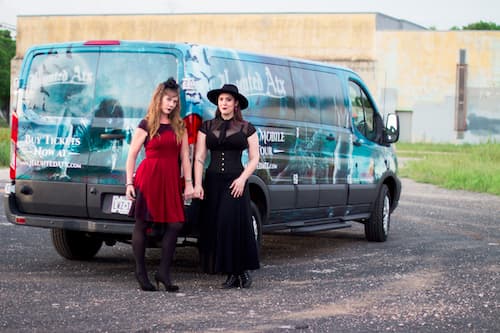 Public Haunted Van Tour Details
Public Haunted Van Tour Details
Prices: $49 per ticket. Gratuity is not included.
Availability: Tours run every evening (except Monday) at 7:30PM, as well as 3PM on Saturdays & Sundays.
Minimum Party Size: We require at least 2 people to run the tour. You may book individual tickets and join other groups.
Max Party Size: The van accommodates 11. You may book parties up to 10 online. If you need that extra seat, please contact us to make arrangements.
Age Concerns: Due to tour content, we request ages 13 and up. For younger guests, please consider the Private Hearse Tours.
Pickup Location: All guests meet at tour time near the Brew and Brew on East 5th street, near IH-35. Please do not be late.
Tour Length: Tours last approximately 3 hours.
Drinks: We provide water, sodas, cups, bottle openers, and ice. YOU MAY BRING ALCOHOLIC BEVERAGES.
Clay Pit Coupons: Each tour ticket includes a 2-for-1 entree coupon for the Clay Pit Restaurant (one of your spooky stops) to be redeemed anytime.
Gratuity: Gratuity for your driver is not mandatory, but tips are VERY MUCH APPRECIATED from satisfied customers. Standard driver gratuity is 15% - 30%. Drivers use Venmo and Cash App if you wish to send gratuity digitally.