Haunted ATX offers the ONLY mobile haunted tour in Austin. Climb into a classic Cadillac hearse that has been converted into a spooky limousine and visit several historic Austin landmarks that are reportedly haunted or have experienced paranormal activity! Use the button below to learn more about Austin Haunted Limo Tours.


VIP Tour Experience
VIP tickets ensure that the car and driver are reserved for YOUR GROUP ONLY. They also allow for custom perks like personalized pick-up and drop-off locations and complimentary flower/balloon requests. Minimum party size is 2 people. Parties of 3 or more seeking the VIP experience may email or call regarding DISCOUNTED RATES. Complimentary champagne (and non-alcoholic beverages) waiting on ice!

Haunted Limo Tour Details
Hearse Limo Rentals
For those who want to roll in style and really make an entrance, the Haunted ATX Hearse may be rented for private limo service. Please contact us to rent the hearse limo for all your special events... birthdays, weddings, bachelor/bachelorette parties, date nights, and more.

Hearse Limo Rental Details
Book Your TourTour Availability and Reservations
Tours often sell out in advance. The BEST way to find available dates and times is to check online through Reservation Genie at online reservations at Haunted ATX, or click below to search available dates and times and buy your tickets today.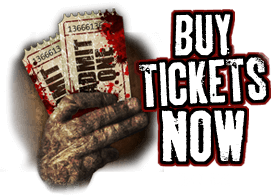 Contact UsTour Meetup Location
We meet in downtown Austin at the parking lot of 501 Studios, (501 North IH 35, Austin, TX 78702). If meeting us by car, we will provide up to 4 hours of free parking for your vehicle(s) in the parking lot at 5th Street and San Marcos Street, just east of IH-35 (see marker on map).
Questions, Comments, Special Requests? Please email using the form below or call (737) 210-1869 and someone will respond as soon as humanly possible (24 hours or less.)
Send us a message
GalleryCheck out our Photo Gallery