– Welcome to –Haunted ATX
The ONLY Mobile Austin Ghost Tour!
– Featuring –Public Haunted Van Tours
Ride In Our Extra Cool Haunted Van!
– And –Private Hearse Limo Tours
Ride in Style in a Hearse Limo To Several Haunted Locations
About Haunted ATX
Haunted ATX offers the ONLY mobile haunted tour in Austin. Starting May 3rd, you may choose a public van tour or private hearse limo tour. Both tours will visit historic Austin locations that are reportedly haunted or have experienced paranormal activity, including the Tavern, Clay Pit, Littlefield House, and more. The van accomodates larger groups and the private tours offer custom pickup and other perks. We do get out of our vehicles frequently and go inside the establishments, but walking is minimal. Haunted hearse limo and van tours are fun, engaging, creepy, and scary!
Public Van Tours
We've added a new Haunted Van to our fleet to create unique tour options. On the public van tour, you'll share space with up to 10 guests to add a fun energy to your crew as you drop by our favorite historic haunted stops. You'll get a little more leg room, extra AC vents, and complimentary water and sodas on ice! You may also bring your own beverages and spirits.
View Public Haunted Van Tour Info
Private Hearse Limo Tours
Our private hearse limo tours are reserved for your group only. They allow for custom perks like personalized pick-up and drop-off locations. We do require a minimum party size of at least 2 guests. Sodas and water will be waiting on ice! You may also bring your own beverages and spirits.
View Private Hearse Limo Tour Info
Haunted ATX on the News!
Book Your TourTour Availability and Reservations
Tours often sell out in advance. The BEST way to find available dates and times is to search here using Reservation Genie and book your seats. You can also click on Buy Tickets Now below.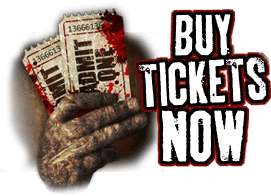 Contact UsTour Meetup Location
We meet in downtown Austin on East 5th Street directly east of I-35 at San Marcos St. (at or near the Wright Bros. Brew & Brew). If meeting us by car, we recommend parking at any metered spot on 5th Street or surrounding streets. Metered parking is $2 per hour, we suggest purchasing 4 hours of parking (tours last approximately 2.5-3 hours).
Questions, Comments, Special Requests? Please email using the form below or call (737) 210-1869 and someone will respond as soon as humanly possible (24 hours or less.)
Send us a message
GalleryCheck out our Photo Gallery