The ONLY mobile haunted tour in Austin.Public Hearse Limo Tours
During Halloween week (10/25 - 10/31) we're bringing back Public Hearse limo tours. We disable private hearse tours in order to make both hearses available to serve more guests. You'll climb into a classic Cadillac hearse that has been converted into a spooky limousine and visit historic Austin locations that are reportedly haunted or have experienced paranormal activity, including the Tavern, Clay Pit, Littlefield House at UT, and more. You will get out of the hearse frequently and go inside some establishments. Walking is minimal and there are a couple of stair cases. Our haunted hearse limo tours are fun, inspiring, and exclusive!
Please read the Tour Details below. Then click the "Find Available Tour Dates" button to search availability for your chosen date, time, and party size to buy tickets. Click here to learn about our public van tours.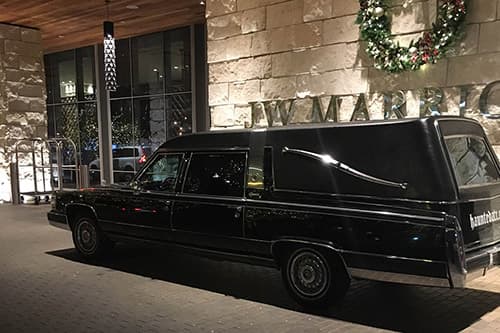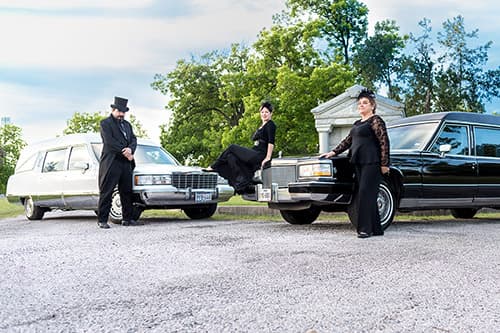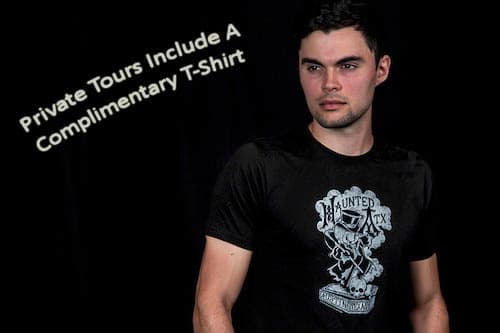 Public Hearse Limo Tour Details
Prices: $99 per passenger. Gratuity is not included (see below).
Availability: Tours run every evening at 7:00PM and 8:00PM. We will open "matinee tours" on the weekends at 4pm when other times sell out.
Complimentary T-Shirt: Every guest receives a super comfy, limited edition Haunted ATX T-Shirt designed by a local tattoo artist!
Minimum Party Size: You may book a party of 1, but we only do tours with at least 2 tickets sold.
Max Party Size: You may book up to 6 seats online. Six adults is typically the maximum comfortable fit; however groups with one extra person or groups with children might be able to fit more. Please contact us if you wish to book more than 6.
Age Concerns: Due to subject content, we recommend ages 13 and up.
Pickup Location: All guests meet at tour time near the Brew and Brew on East 5th street, near IH-35. Please do not be late.
Tour Times: Tours last approximately 3 hours.
Drinks: We provide water, sodas, cups, bottle openers, and ice. YOU MAY BRING ALCOHOLIC BEVERAGES.
Clay Pit Coupons: Each tour ticket includes a 2-for-1 entree coupon for the Clay Pit Restaurant (one of your spooky stops) to be redeemed anytime.
Gratuity: Your tour guide works very hard to provide a safe and unique tour experience. Please show them some love. Here are a couple of recommended percentages: 18% Good, 20% Great, 25% Amazing, 28% Time of your life! Cash, Venmo, Cash App and other digital payments all accepted.
Guns: Please leave your guns behind...they scare the ghosts. Also, we go inside bars where they are not allowed.
Reservation Policy: Please note, space is very limited and others cannot book once your seats are reserved. Therefore, no-shows, same-day cancellations, and tours cancelled with less than 48 hours notice cannot be refunded. Tickets cancelled 7 days or more before your tour will be refunded in full. Tours cancelled with 2 to 7 days notice will receive a 50% refund.
event_available Find Available Tour Dates